Digital Control Systems, Inc. has been providing reliable, cost-effective instrumentation and control modules to value-conscious original equipment manufacturers in the industrial, HVAC and medical-automation markets since 1984. Today, Digital Control Systems manufactures an ever-growing line of standard products and custom-designed modules for OEMs and suppliers in the United States and abroad. Hundreds of thousands of DCS products are in service worldwide. Digital Control Systems, Inc. manufactures the following families of standard OEM modules:
Dual-beam IR CO2 sensors for environmental, industrial and agricultural CO2 monitoring and control.
PID parametric controllers for embedded applications in commercial, medical and industrial devices.
Electric motor amplifiers and controls.
Carbon Dioxide Sensors and Monitors
Digital Control Systems first introduced the world to affordable microprocessor-based carbon dioxide measurement in 1994. Our design philosophy centers on using leading technology to produce sophisticated cost-effective sensors and controls for the HVAC, laboratory, medical, and agricultural industries (such as fruit storage and greenhouse applications).
Our standard AirSense™ line of products can be calibrated to monitor CO2 concentrations in two formats: percent reading (0-100%) and parts per million (0 to 100,000 ppm). Our basic platforms are engineered to be easily configured to serve a wide range of applications. We encourage you to challenge us with YOUR application requirements.
View the Full Line of AirSense CO2 Sensors and CO2 Monitors

Brush and Brushless DC Motor Speed Controllers
Our family of ServoMax™ Motor Speed Controllers ranges from inexpensive potentiometer-set versions to sophisticated fully digital closed-loop controllers with displays. Most are available as either amplifiers for integration with user-supplied controllers or as complete systems including a front panel operator interface. Markets currently being served by Digital Control Systems motor speed controllers include industrial, medical, and laboratory product original equipment manufacturers (OEMs).
View the Full Line of ServoMax™ DC Motor Speed Controllers
Temperature and Parametric Controllers
Digital Control Systems manufacturers the cost-effective line of Multistat™ Proportional Intergral Derivative (PID) controls for laboratory, medical, and industrial markets. Many sensing methods are available, including thermocouple, IC, or RTD sensor, and each can be readily assimilated into most applications. Also, if desired, our controls can be supplied with custom front panel overlays, or or we can easily modify one of our existing platforms to fit your existing front panel display. Our basic models can be configured to regulate a wide range of applications. Tens of thousands of DCS controllers are regulating temperature, humidity, gas concentration, and other parameters worldwide.
View the Full Line of Multistat™ Temperature and PID Controllers
Custom Products
Over the years Digital Control Systems has developed hardware platforms and firmware libraries that cover a wide range of instrumentation and control applications. We have distilled our years of experience implementing embedded control solutions into a mature, cost-effective family of field-proven microprocessor-based OEM control modules. Designed for flexibility, they can be easily programmed with features and options to cover a broad range of real-world applications.
Our modules can be easily incorporated into your design for a fraction of the cost and effort of developing and maintaining a custom or in-house design. For more complex or specialized applications, Digital Control Systems will cost-effectively design and manufacture a fully-customized module to your exact specifications. Whether you require a standard or custom product, DCS provides state-of-the-art control and instrumentation solutions that add value to your product without burdening your engineering resources.
In either case DCS products always arrive completely configured to their target application. No programming or other set-up is necessary to make them operable: simply wire them in and turn them on.
Our products are designed to comply with domestic and overseas regulatory requirements. DCS modules are embedded in thousands of products that comply with UL, CSA, CE, TüV and other agency requirements worldwide. We have quality systems and controls in place to satisfy the largest ISO 9000 corporations while retaining the flexibility and speed to delight the most dynamic start-up.
Digital Control Systems is committed to providing cost-effective control and instrumentation solutions to manufacturers and suppliers worldwide. We offer a unique combination of technical expertise to maximize value, careful manufacturing to ensure quality, and a corporate emphasis on total customer satisfaction.
Warranty / Terms and Conditions
LIMITED WARRANTY AND REMEDIES. Unless otherwise specified in the product's user manual, DCS warrants to Buyer that for two years from the date of shipment of Products to the Buyer that Products will substantially conform to the product specifications agreed to by DCS. This warranty is not transferable.
a. This warranty does not cover:
(i) defects due to misuse, abuse, or improper or inadequate care, service or
repair of Products; (ii) defects due to modification of Products, or due to alteration or
repair by anyone other than DCS; or (iii) problems that arise from lack of compatibility
between DCS's Products and other components used with those Products or the
design of the product into which Products are incorporated. Buyer is solely
responsible for determining whether Products are appropriate for Buyer's purpose,
and for ensuring that any product into which Products are incorporated, other
components used with DCS' Products, and the purposes for which DSC's Products
are used are appropriate and compatible with those Products.

THE WARRANTY IN THIS SECTION 11 IS IN LIEU OF ALL OTHER WARRANTIES,
EXPRESS OR IMPLIED. DCS EXPRESSLY DISCLAIMS ALL IMPLIED WARRANTIES,
INCLUDING THE WARRANTIES OF MERCHANTABILITY AND FITNESS FOR A
PARTICULAR PURPOSE. DCS IS NOT RESPONSIBLE IN ANY WAY FOR DAMAGE
TO A PRODUCT, PROPERTY DAMAGE OR PHYSICAL INJURY RESULTING IN
WHOLE OR IN PART FROM (1) IMPROPER OR CARELESS USE, (2) UNAUTHORIZED
MODIFICATIONS, OR (3) OTHER CAUSES BEYOND DCS'S CONTROL. IN NO EVENT
IS DCS LIABLE TO THE BUYER OR ANY OTHER PERSON FOR COST OF
PROCUREMENT OF SUBSTITUTE GOODS, LOSS OF PROFITS, OR FOR ANY
OTHER SPECIAL, INCIDENTAL OR CONSEQUENTIAL DAMAGES.

b. To obtain service under this warranty, unless DCS agrees otherwise, Buyer must
contact the DCS Salesman or the DCS Customer Service Department to obtain a
Return Material Authorization Number and provide to DCS a Purchase Order Number
for non-warranted repairs and/or unauthorized credits. Buyer must pack any
nonconforming Product carefully, and ship it, postpaid or freight prepaid, to DCS at
7401 SW Capitol Highway, Beaverton, OR 97219 USA before the expiration of the
warranty period. Buyer must include a brief description of the nonconformity. Any
actions for breach of this warranty must be brought within one year of the expiration of
this warranty.

c. If DCS determines that a returned Product does not conform to the warranty in this
Section 11, it will either repair or replace that Product, at DCS's discretion, and will
ship the Product back to Buyer free of charge. At DCS's option, DCS may choose to
refund to Buyer the purchase price for a nonconforming Product instead of repairing or
replacing it.

d. UNDER NO CIRCUMSTANCES will DCS grant credit to any customer for the price of
any Product that has been returned for repair prior to DCS's determination of
warrantability. Products returned for repair will be repaired or replaced and returned to
the Buyer. NO CREDITS will be issued and no credits demanded by Buyer will be
recognized by DCS. Any such unauthorized credits that appear on checks rendered
for payment will be immediately re-billed with a service charge of 20% of the
unauthorized credit added, per unit of Product. Notwithstanding the aforementioned,
DCS Customer Service may authorize full credit for the purchase price (less a 20%
restocking fee) for unused Products returned as unsuitable for the Buyer's application.
For complete Warranty / Terms and Condition (click here to continue)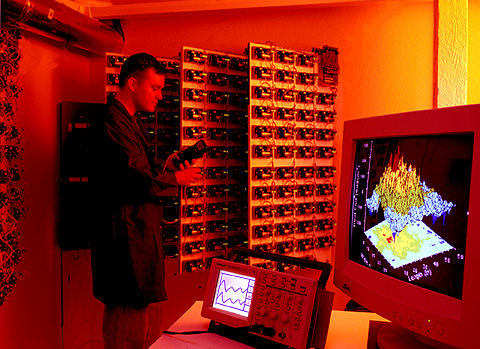 Breathe easily with an AirSense
indoor air quality monitor.